2023 Dragon Boat Festival
Published on 24 June 2023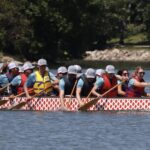 Precon had the opportunity to race as the 'Precon Paddlers' this weekend in the ATB Financial Lethbridge Rotary Dragon Boat Festival! This is a community event that brings hundreds of dragon boaters from across Western Canada together for a weekend of fun competition at Henderson Lake Park in Lethbridge. It was most of our team members' first time participating in the dragon boat races, but we scored a 3rd place finish in the recreational races and had a blast!
To our sponsors: Boone Trucking Co., Ash Grove, Bosnak Welding, Lafarge, Banditos Inc., Derochie Painting, and MPE Engineering; we are especially grateful to you for this opportunity, so thank you all very much for your generous donations!
We would also like to thank our Precon Paddlers, and our staff and their families who were there this weekend cheering on our team! What an amazing event, we hope to see everyone there next year!